Medway agricultural drive belts can be placed into three groups being, V-Belts, Micro V-belts and timing (synchronous) belts.
These products withstand the harshest environmental requirements. For example, oil and grease contaminated drives where grits may interfere between pulley and belt. Thanks to their characteristics, agricultural V-belts perfectly match the requirements of clutching drives. The aramid cords protect the belt against shock loads, whilst maintaining its constant length. The rubber compounds are specially designed for long lasting power transmissions working under hardest conditions.
Belt covers use the latest technology in materials for a high resistance in clutching transmissions. Agricultural V-Belts are being used successfully in applications such as; Tractors, Harvesters, Lawnmowers, Snow blowers, Garden tractors and countless farm ancillary equipment.

Classical V-Belts
Traditional V-Belts are manufactured with cross-sections Z, A, B, C & D sections with a range of over 800 lengths currently available. V-Belts for industrial use are designated both to RMA standard e.g. A52, where the letter designates its cross-section and the number corresponds to a nominal internal length in inches and to DIN standard e.g. 13x1320Li, where the first number denotes the width in mm, and the second number is the internal length in mm.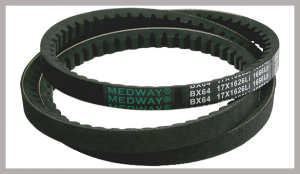 Automotive V-belts
Energy saving, higher performance, Automotive V-belts with a higher performance level and having a longer service life. Special designs with Raw edges that allow higher slipping resistance even when working with low installation tensions. Part numbers are identified by 3 letters AVX the belts cross section and a 2 digit number (e.g.10) the belts top width and a 3 or 4 digit number which represents the belts length in mm. e.g. AVX10x800.

Agricultural V-belts
3L, 4L & 5L cross section v-belts provide energy saving and high performance ideally suited for clutching applications. Cotton covered provides fewer take-ups and length adjustments, longer life coupled with high heat and oil resistance. AA, BB & CC cross section hexagonal v-belts are flexible in the direction of motion, rigid in transverse direction and designed for use in serpentine agricultural applications involving multiple pulley arrangements.

Variable speed belts
Variable Speed V-Belts conforming to ISO R-1604 are designated by the letter W followed by a number e.g. 16 being the belts width in mm, this is followed by a number e.g. 500 which corresponds to the pitch length Lp in mm. Belts not covered by ISO standards are designated by a set of 3 numbers e.g. 22 which denotes the belts top width, e.g. 8 which denotes the belts thickness and e.g. 1000 which denotes the belts inside length Li in mm, therefore e.g. 22x8x1000.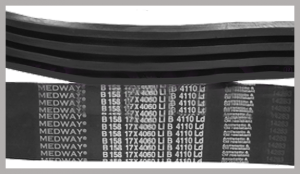 Banded V-belts
Banded V-Belts are sets of belts assembled, incorporating all of the features of standard belts, the belts are joined to form a band giving additional features; no flapping during abrupt load variations, no possibility of turning over and are ideal in high vibration applications. Part numbers are designated by their cross-section, e.g. SPB followed by a number e.g. 2000 which specifies the belts pitch length, followed by e.g./4 which specifies the number of bands.

V-link belting
V-belt Link belting offers a fast alternative to endless V-Belts used in an
emergency break down situation due to the ease in which the belts length can be adjusted to suit any application. Also used as preferred belting product in applications where an endless belt cannot be fitted without an expensive machine breakdown as it can be threaded into place and connected in situ without the need for shafts and bearings to be dismantled.

Wedge V-belts
Wedge Belts are designated by letters standing for their cross section, e.g. SPA followed by a number e.g. 1600 which specifies the pitch length Lp in mm. Due to their high power ratings savings can be made over classical V-Belts, smaller pulley diameters and less numbers of belts can be incorporated into compact drives. Produced to BS3790 and DIN 7753 and standards. Manufactured in cross-sections SPZ, SPA, SPB & SPC in a range of over 500 lengths.

Micro V-belts
High Performance Micro V-Belts with triangular ribs running along the length of the belt. Drives can be reduced in size when compared with traditional V-belt drives as smaller pulleys can be used that will transmit equal or higher loads reducing space requirements and cost. Part numbers are identified by a 3 or 4 digit number e.g. 1321 which represents the nominal length in mm, a letter e.g. J the cross section and a 2 digit number e.g. 08 the number of ribs. 1321J08 etc.

HTD timing belts
The HTD tooth profile adds sturdiness to the belt resulting in an increased torque transmission capability and a reduction in transmission noise, an increase in tooth jump resistance, an increase in power transmitted and an increase resistance to tooth shear. Part numbers are identified by a 3 or 4 digit number e.g. 960 represents the pitch length in mm, a number and letter e.g. 8M the belts pitch and a 2 or 3 digit number e.g. 30 the belts width e.g. 960-8M-30.

Imperial timing belts
Available with either single or double-sided teeth, trapezoidal tooth profile and Polychloroprene teeth offer accurate meshing with the mating pulley, and this contributes to the ability to absorb shock loads and reduced interference. Part numbers are identified by a 3 or 4 digit number e.g. 900 which represents the pitch length in inches i.e. 90", 1 or 2 letters e.g. H the belts pitch and a 2 or 3 digit number e.g. 200 the belts width i.e. 2" for example 900H200.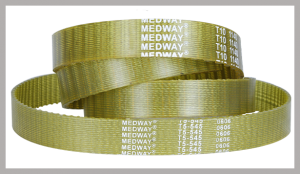 PU timing belts
Single or double sided teeth and high grade polyurethane gives excellent abrasion and shear resistance, combined with a steel cord ensuring high strength. Consistent dimensional stability, low pre-tension, low noise and linear speeds up to 80 m/sec. Part numbers are identified by a letter and number e.g. T10 representing the belts pitch, followed by 3 or 4 numbers e.g. 810 the belts length in mm, and a 2 digit number e.g. 50 the belts width, e.g. T10-810-50.

Open ended timing belts
Open Ended Timing Belts are manufactured in both rubber and polyurethane, specifically suitable for linear, accurate positioning drives. A high load capacity, low maintenance costs and very low noise levels, make open ended belts a perfect alternative to chain or cable linear drives. Open ended rubber and polyurethane timing belts are produced in both straight and spiral cut options and are available in the following cross sections; 3M, 5M, 8M, XL, L, H, T5 & T10